LiveXLive - Streaming Music and Live Events
Radio App – Stream Live Music Events to Your Phone
If you want to enjoy live music events from the comfort of your home then this radio app is an excellent choice for you. LiveXLive – Streaming Music and Live Events is a cool app which allows you to stream music to your phone and lets you watch live events. It lets you listen to your favorite songs and artists as long as you have a working internet connection. You can choose the music you want to stream either by selecting one of the many radio stations that had been hand-crafted for you or creating a station of your own. The radio stations will continue to please you with hit music one after the other and keep you entertained on long journeys.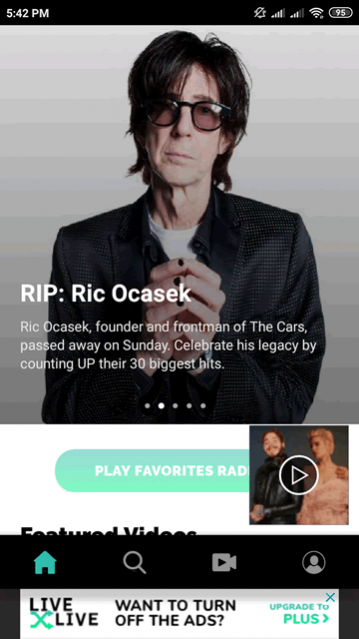 LiveXLive – Streaming Music and Live Events has a simple user interface which makes it easier for everyone to interact with this radio app. Moreover, the layout of this app has been designed in a user-friendly manner. This ensures that navigating the app's features isn't an issue. However, do keep in mind that streaming music is currently available only for people living in Canada and the US. If you are not a resident of these two countries then you won't be able to stream any music via this radio app. There are four main tabs provided at the base of the home screen. The first tab is the Home tab where you will find all the radio stations that have been hand-crafted as per your music interests.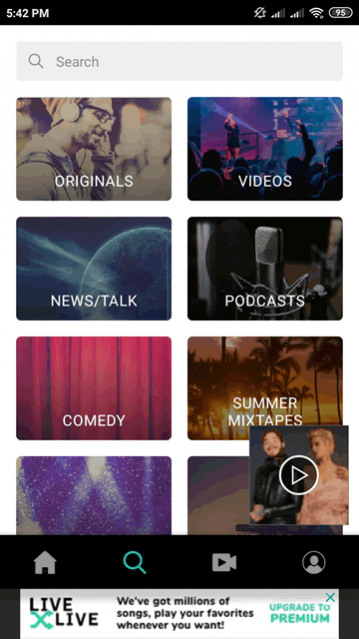 This radio app allows you to find the song and artist that you want to listen to. There is a huge online music library available to you in this app and you can search your songs in this library via the search box. This search box is located in the second tab, which is the Search tab. Aside from the search box located at the top of this tab, there are several categories provided to you. You can pick any category you like and then select the content inside that you want to listen to. There is an ample amount of choice available with categories ranging from Original songs, Video songs, and Summer Mixtapes to Podcasts, News/talk shows, and even Comedy stations.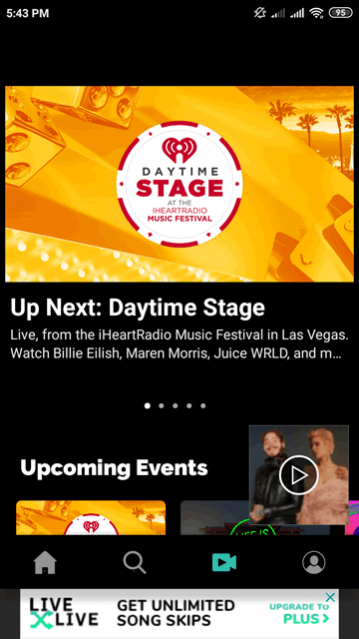 LiveXLive – Streaming Music and Live Events isn't just your ideal companion for streaming music. It is a way for you to attend music events even without being physically there. Yes, with this radio app, you can stream the live music events taking place hundreds of miles away from your location. You just need to have a good internet connection and you can easily stream entire music events on your phone. All the information regarding upcoming events can be found in the third tab of this app which is the Events tab. You can collect your favorite songs in this radio app too and share them with others. However, before you can do that, you need to sign-in first. You can sign in using your Facebook or Gmail account too.
Features:
Simple user interface
User-friendly design and layout
Stream music that you like to your phone
Watch video stream of your favorite events
Many hand-crafted music stations to listen to
Search for artists and songs of your choice
Option available to create your own radio stations
Collect and share your favorite songs with others
Music recommendations based on your interests
Stay updated with music news from all around the world
Weekly Audio and Video shows
Conclusion:
LiveXLive – Streaming Music and Live Events is an app which is designed for people who want to enjoy live music events but can't attend them in person. It provides them the chance to stream live events to their phone and enjoy them while sitting in their homes. It is a great radio app and you should have it on your phone.
---
Add a review
Tell us your experience with
LiveXLive - Streaming Music and Live Events
RELATED PROGRAMS
Our Recommendations
---
---
---
---